Using the best free screen recording softwares is a great resource for anyone who wants to start a YouTube channel or online marketing. Newbies and professionals can use screen recorders to record their voices or/and video.
Just as my blog is dedicated to helping you through digital processes, In this article, we show you some of the best free screen recording softwares that can help you get started with YouTube.
There are lots of screen recording software for free that can record your screen. Some are easy to use, some are technical while others will completely piss you off.
This article will be a review of some screen recording software. I have used many of them and I have selected the 8 best screen recording software to give a review on.
If you are planning on starting a YouTube channel or creating video ads for a digital product but you are camera shy, you can use a screen recorder.
One way you can start growing your YouTube channel is by recording your screen while sharing strategies, tips ad different types of content. The best way to start is using screen recording software for free to achieve your aim.
You can start using any of the best free screen recording softwares or all of the tools I will be sharing in this article.
Some are free while some are free trials with the paid version.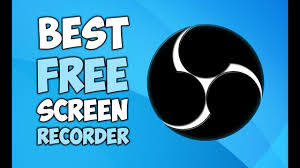 8 BEST FREE SCREEN RECORDING SOFTWARES- FOR YOUTUBERS AND ONLINE MARKETER
1, OBS Studio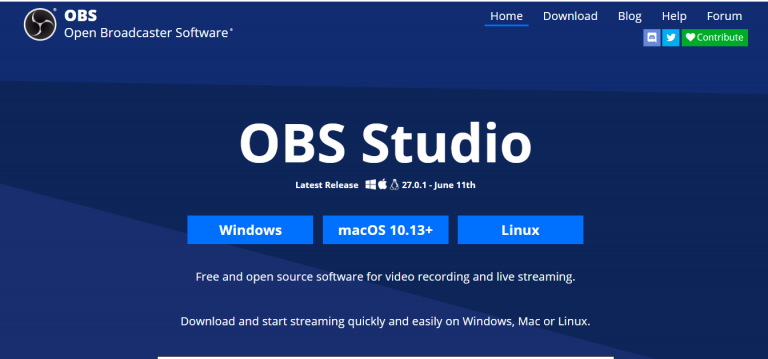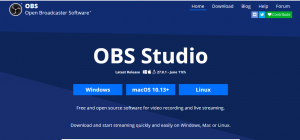 OBS Studio is one of the oldest screen recording software. It is called the Open Broadcaster Software. It has Windows, Mac, and Linux versions. Depending on what OS you are using, you can go ahead and download OBS studio for free. OBS is 100% free.
It is a free and open-source software for video recording, live streaming that allows you to download and use immediately. This software is used by many especially when starting up because it is free. I personally used this tool but did not enjoy recording with this tool because it was quite technical.
When I tried doing a few videos, recording my screen, I found it very hard to locate the different keys and functions around it.
Although it is free but technical to use. If you are patient and can cope with its technicality, you will really enjoy this tool else you will quickly jump off to another.
A lot of people use OBS studio for their screen recording. If you are starting out and you do not really have the budget, you can go ahead and download OBS studio
2, Screencast-o-matic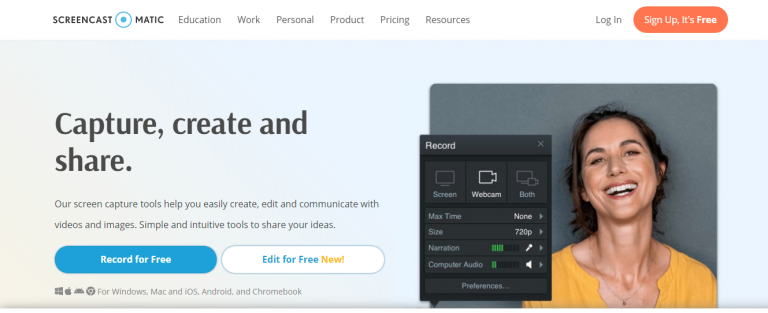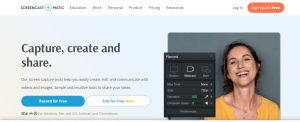 Screencast-o-matic is an online screen recording software. It is available for Windows, Mac, IOS, Andriod, and chrome book. This tool supports webcam and online scree recording. It records in HD.
Screencast-o-matic software is free to an extent with a subscription which you get to pay $1.65/month.
The paid version gives you access to; easy video editor, record computer audio, import narration, sound effect, scripted recording, draw, and zoom. These features are cool for a screen recorder like the "draw" which allows you to make drawings and illustrations in your screen recording.
If you want to draw while recording or teaching, you will love this particular tool. Screencast-o-matic has the ability to take screenshots and can capture speech-to-text with the green screen filter.
Paying $1.6 monthly or $15/year is really cheap for all these features. This tool is great for educational purposes. It can also be used for work and personal purposes. If you are creating a YouTube video using this tool, you do not have to download then upload it to YouTube. You can upload directly to YouTube from Screencast-o-matic.
3, Screenflow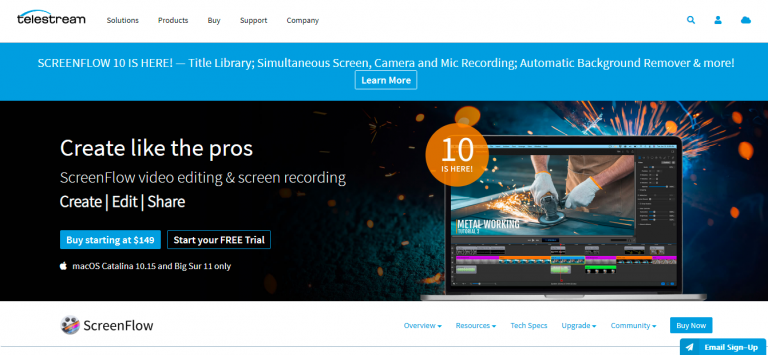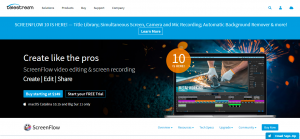 Screenflow is designed only for Mac OS. It records everything on the screen and offers a range of editing options. You can use this tool to record from the device's microphone, speaker audio, and many more.
Screenflow is very easy to understand and flow with, without having to bug yourself about how to use the tool or how technical it could be. 
Screenflow has high-quality recording, a built-in stock media library, IOS support which allows you to download on iPhones. Screenflow is easy to learn, with powerful video editing tools, professional animation, streamlined media management, closed caption support, and many more. 
Screenflow does not lag.
With Screenflow, you will be getting series of titles and other features upon download. To use Screenflow you can start a free trial or get the tool for $149 which is a one-time payment.
One of the biggest problems with this tool is that it produces files that take up large space. It is often 2x the file size of other screen recording tools. You will have to struggle with creating space for your system or you get a hard drive.
If you are considering uploading the videos to YouTube and you are in areas where the network is poor, since the videos from these tools are often very large files, it can take you forever to upload.
4,Screencastify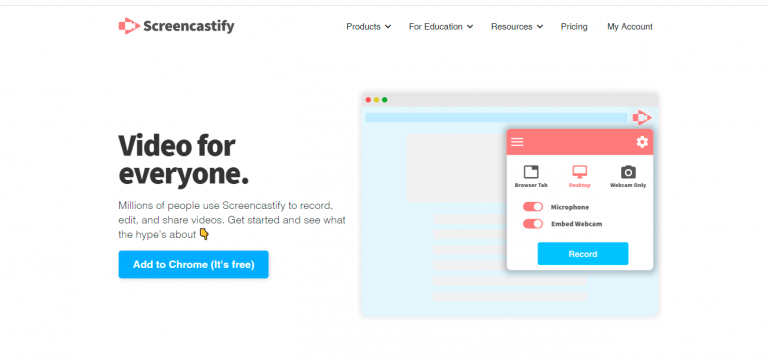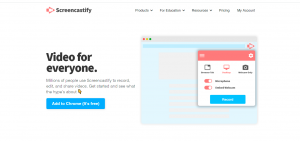 Screecastify is a simple web tool that you can use for your screen recording. Screencastify can be added to Chrome for free. If you have a Chrome browser you can add up this extension to Chrome. Then, you can start recording your screen from the Chrome browser. With Screecastify you record, edit, and submit.
You can upload videos to YouTube directly. If you are using it for educational purposes, you can share the link with students to see the video.
Screencastify is free for individuals with a limit of 5minutes per recording. If you are using the individual plan, you will have to be careful with the timing so you don't exceed 5minutes.
If you are a startup or you want to make short videos for your student and others, Screencastify is your go-to.
You can jump on the unlimited plan with an unlimited recording limit. This will cost you $49 /month which is moderate.
If you want more than the individual plan which is limited to 5miutes of recording, you can upgrade to a $49 plan with unlimited recording time.
5, Bandicam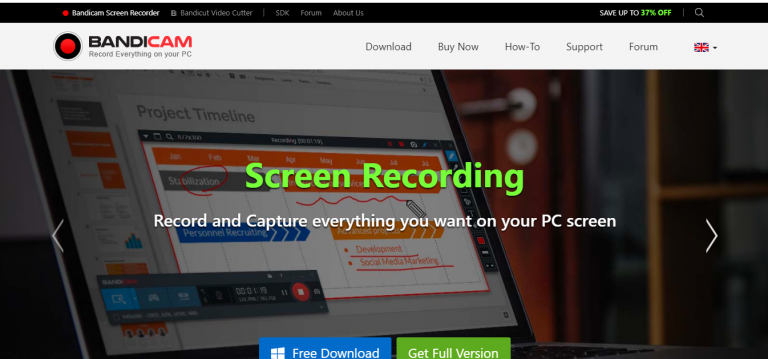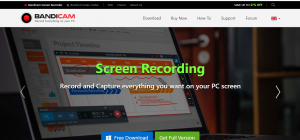 Bandicam is used to record video from your screen, webcam, IPTV, smartphone, and PS/box. On Bandicam, you can get the free version and also the paid version with more features.
The full version goes for $39.9. For two PCs, it goes for $59.9. The paid plans come with a license. Upon download, you will use the license which will grant you access to every feature you need for your recording.
With bandicam, you take screen recording, game recording, and device recording. You can save your file in MP4, AVI. 
Bandicam is a cool screen recording. It has many features which include real-time drawing, add webcam overlay, scheduled recording, mix your own voice, mouse effects, and Chroma key for webcam overlay.
This tool is great but some people might not like the UI(User interface). Sometimes how a website or an application looks can make users feel bad about it. I personally had an issue with the UI and I had to switch to something else.
6,Filmora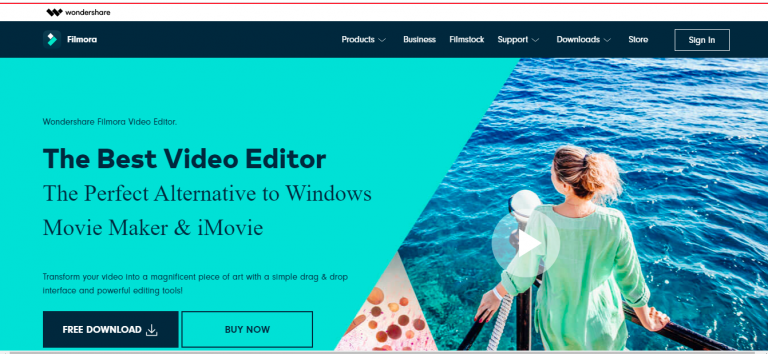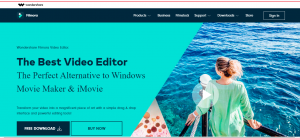 Filmora is another cool screen recorder. It gives everything you will ever need in a screen recorder.
You can use it for your recordings as well. It does more than screen recording. It is software that allows you to edit your video too. They have a lot of useful apps in their catalog. They have the PDF element, document cloud, mock it, and others. You can import, work on, and export photos, video, and audio on Filmora. 
It has so many effects like green screen, pan and zoom, color tuning, audio mixer, audio equalizer, advanced text editing, video stabilization, screen recording, split-screen, and 3D lut.
Filmora is not free. If you are looking for a free tool to start with, filmora is not a free tool.
Although you have access to some features for free, you will still need paid access to more features on the premium version.
Filmora has a lot of stock images, great transition effect, appropriate sound.
It is smooth and easy to use. I recommend this tool to anyone who wants to start up with either recording or editing your files.
Filmora has three major plans. The Annual Plan, Perpetual Plan, Annual Bundle Plan. The Annual plan costs $51/year with access to Filmora with no watermark and free text support. 
Starting out? The $51 Plan is quite okay for you.
7, Camtasia
Camtasia is not totally free but it has a free trial for some days. You can use this tool for video tutorials, meeting recordings, how-to videos, demo videos, YouTube Videos, webinars, presentation recordings, and many more. It provides a smooth and easy process to record your screen with effects. This particular tool is used by many especially YouTubers because of its simplicity and numerous features and effect.
Jumping on this tool is a decision you will love to make.
Although, I had an issue with this tool. It was lagging on my desktop but it works well for many others.
Camtasia has three plans. The Free Plan, One-time fee of $249.99 plan and one-time  $274.99 plan with Snagit.
I recommend Camtasia, it is one of the best screen recording softwares and tools you can use for your videos with cool results.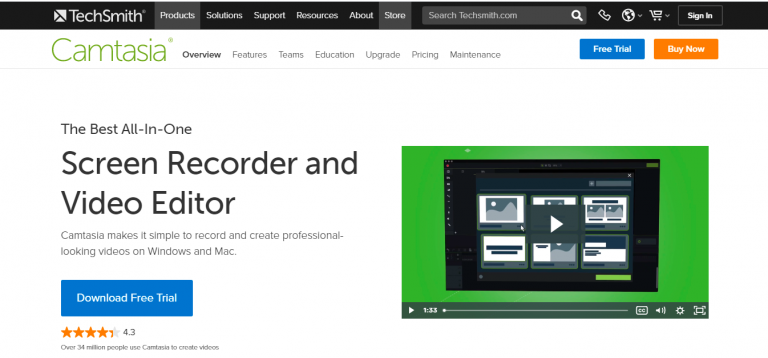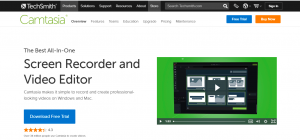 8, Movavi Screen Recorder
This is the current tool I use now. The entire process of this tool is really simplified and super smooth. This tool allows you to record your screen and at the same time link up your mic for sound input and camera for video input. Although you can use your webcam, the option of using an external device like this produces better video quality.
You can download Movavi for free. The paid versions start from $34.95/year for PCs and $29.95/year for Mac users.
Movavi is much more than a screen recording tool. They have also provided a video suite that you can use to edit your videos, Gecata for gamers, and a lot more features.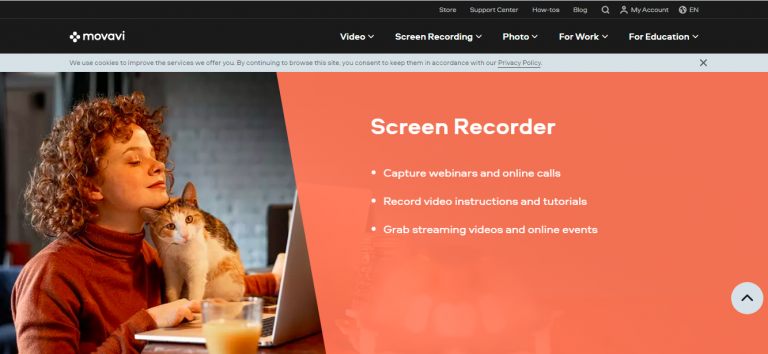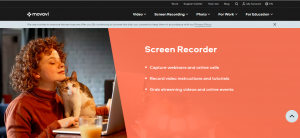 If you will love to read an article on the entire process of using Movavi, drop a comment in the comment section.
Which of these tools have you used? Which will you love to try out? Drop in the comment section below.
Join my community to learn everything about online marketing, how you can grow your online business and scale online. Join my community to get the latest updates and how they can help you. Click HERE to join.