So you need the best free digital marketing course online? Learning digital marketing is a perfect decision to make at this time.
In 2021 and beyond one of the biggest skills that can help you start and scale your online business is digital marketing.
During the lockdown last year, a lot of people who had businesses could only scale by selling online. Others who wanted to do something from home had only online businesses as their only gainful resort.
Even after the lockdown, we realize that online businesses have come to stay and the only way to scale in this space is getting and high-income skills which is digital marketing.
If you don't have a business, and you're looking to start out in the online space, you need to learn digital marketing.
Promoting your business or brand requires digital marketing skills. You might not have all the resources as a beginner to pay for courses, your best option is to get a digital marketing course online for free.
If you are here, then you must have asked questions like; where can I learn digital marketing for free, can I get the best digital marketing course online for free with a certificate, and many more questions.
This article is the best place to get your questions answered. Read through to the end.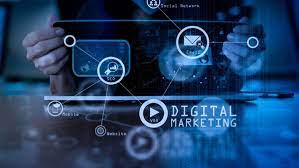 7 Best Free Digital Marketing Course Online With Certificate in 2021
What is Digital Marketing?
Digital marketing is about promoting or advertising a brand or business to attract and retain new and existing customers in the online space via different electronic devices such as smartphones, and a computer as long as there is an internet connection.
Every activity involved in promoting your brand, product, or business in the online space is called Digital Marketing.
Whatever form of marketing or promotion you are doing right now, is under the umbrella of digital marketing.
This should tell you that there are several skills and niches under digital marketing.
What are the skills in digital marketing?
Seo (Search Engine Optimisation) involves all activities to help a website or webpage rank on the search engines.

Content Marketing (includes content creation for blog, website, landing pages, and different platforms)

Social media marketing (creating amazing content for social media in order to promote a brand or business)

Email Marketing (sending emails with the aim of getting conversion)

Social media advertising (running advert on social media platforms like Facebook, Instagram,  YouTube)

Search engine marketing

Analytics and many others
These skills are the basic skills to learn when growing a career in digital marketing.
Interestingly, digital marketing skill is one of the highest paying skills you can learn. This is because brands and businesses understand the revenue they can make from the online space and they want to put in work thereby getting digital marketers to do the work
Everyone has a smartphone everyone is on Facebook, Instagram, TikTok, and various platforms.
These brands want to be in front of their audience in the online space so they need digital marketers.
How Much Can You Make From Digital Marketing?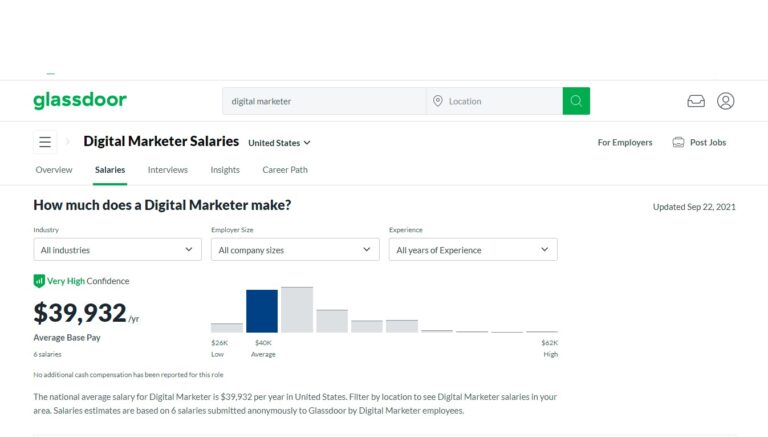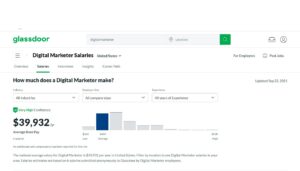 On Glassdoor, a digital marketer can earn an average of $39,000 per year which is about N22M
Wow! If you master digital marketing, you can earn an average of N22M. Isn't this amazing?
Whether you will be working for someone or you want to be a freelancer or start up your digital marketing agency or you want to learn the skills for your business there is huge potential to earn a lot of money in this place.
Talking about digital marketing agencies, if you would like to read an article on how to start a digital marketing agency drop a comment in the description section.
Where Can You Get Digital Marketing Course Online For Free
1, Google digital garage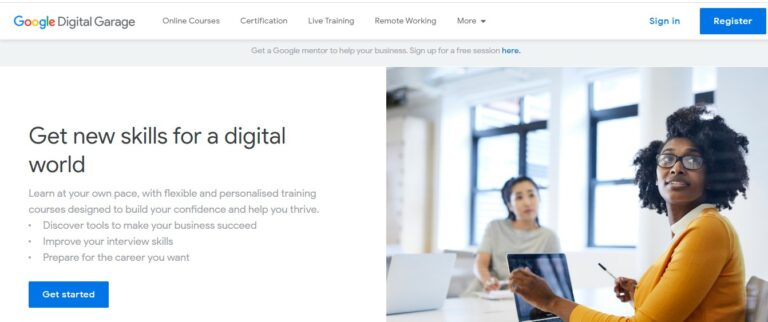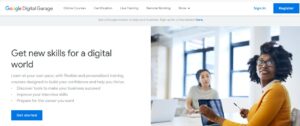 When I was starting out, Google digital garage was the first place I started learning from over 5 years ago. I jumped on Google Digital Garage and took the course on digital marketing which is "Fundamentals of Digital Marketing".
The course has 26 models and 40hrs learning hours. It introduces you to everything you need to know; Your First Step in Online Success, Building Web Presence, Planning, Online Business Strategy, Getting Started with SEO, Getting Discovered on Search, and many more.
Click HERE to start the course. upon completion of this course, you will be required to take an exam which comes with a certificate. This certificate is really worthwhile you can apply for jobs using the certificate. You can include it on your LinkedIn profile and use it for freelancing as proof of expatriates to get more orders
2, FutureLearn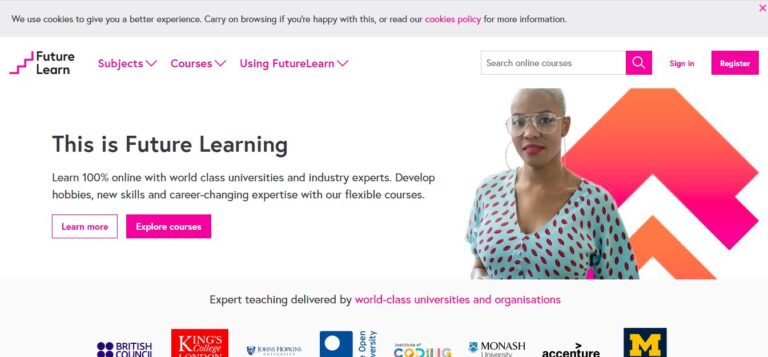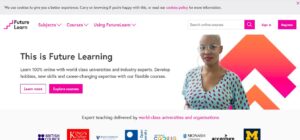 FutureLearn comes in a duration of two weeks. You get two hours of weekly study.
On FutureLearn you can also learn at your place just like Google digital garage.
FutureLearn is 100% free.
They teach two major topics
How to use digital marketing

Digital marketing techniques, where you learn SEO, Email marketing, PPC, and display advertising.
This will help put you on a path where you can start implementing a few things for yourself. If you want to go ahead with this program, you will have access to every resource for free and get accredited.
3, ClickMinded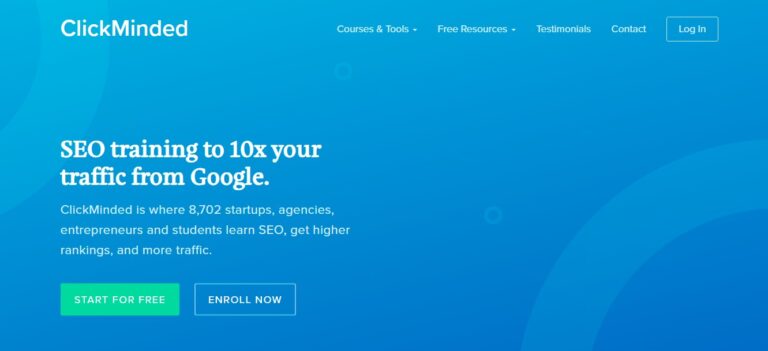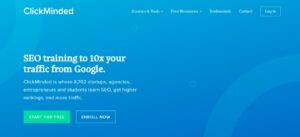 ClickMinded is an agency but they also have a digital marketing course to start with. They have seven digital marketing courses to learn and massively increase sales. ClickMinded is where start-ups, agencies, and entrepreneurs learn digital marketing. 
To start this course, click HERE.
This course is not completely free but you can start the beginner's level completely free before going over to the paid part of the course. The free part of the course will give you basic knowledge of digital marketing. After taking the paid course on ClickMinded, you will also get a certificate.
4, Coursera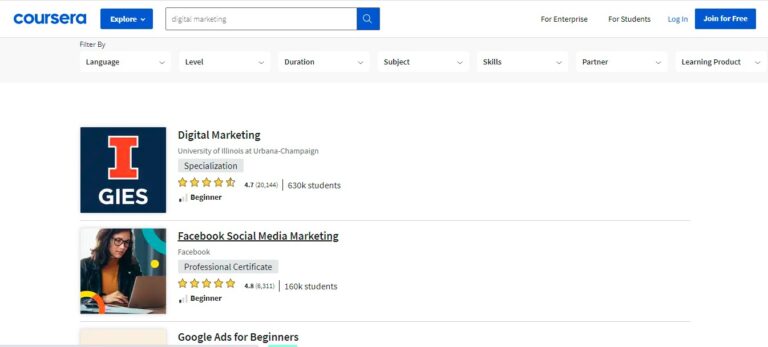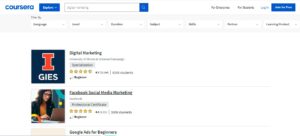 Coursera has free courses on digital marketing where you can learn how to drive customer behavior online. It's a 6-course overview of the latest digital marketing skills taught by industry experts.
You can enroll for free HERE.
They often close the program and reopen it. You can click HERE to start the program.
On Coursera, you will be learning
Marketing in the digital world

Digital marketing and analytics

Analytics in practice

Media and marketing strategy

Marketing revolution

Marketing capstone and many more.
Coursera gives you the opportunity to learn a lot about digital marketing. It is an eye-opener to the digital marketing world. Selling online is very easy but very difficult for some people because they do not know what to do, they do not know the principles that work and don't work.
You need to take this free course to help you get o the right path to achieve success in whatever you do online.
5, EDX.ORG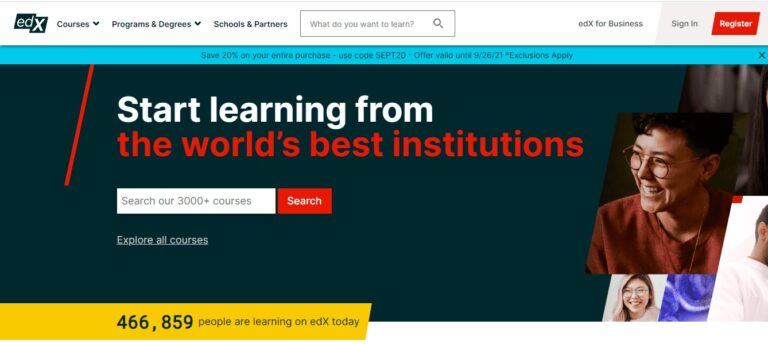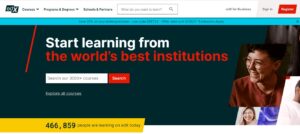 EDX has the digital marketing course for free. They also have other courses that are paid for. 
Some free courses are; Introduction to marketing, digital marketing strategy, and many more.
You can scroll through all their courses to pick the one that is peculiar to your need and learn. You can start up your business with the knowledge you get from EDX and make a lot of money from yourself.
6, Udemy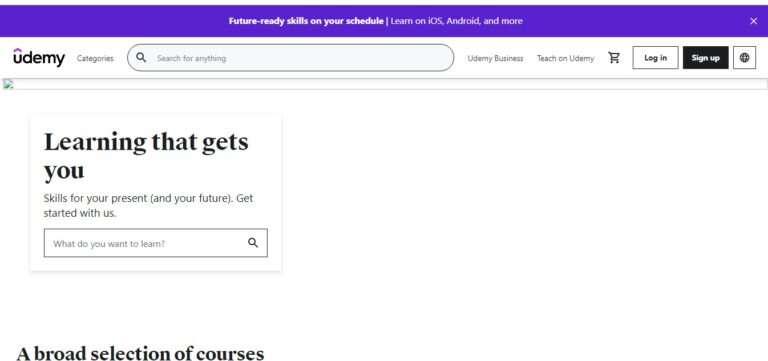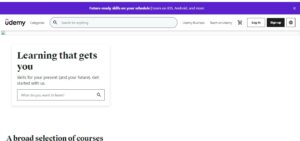 Udemy is a website with a lot of courses on different spheres of life. Digital marketing is one of the courses they have. There is a lot of experts who teach on Udemy. Udemy requires that you make payment and enroll for any course you want to take. Although there are free courses to take on Udemy and digital marketing is one of them.
To get a free digital marketing course on Udemy, search for digital marketing in the search bar then filter it to free courses
You will notice that there are several free digital marketing courses on Udemy. Yes! So many and you shouldn't give excuses for not learning digital marketing.
Choose any of the courses and start learning. You can take as many as five courses to broaden your knowledge of digital marketing. Also, start practicing what you have learned. This is very important.
7, Hubspot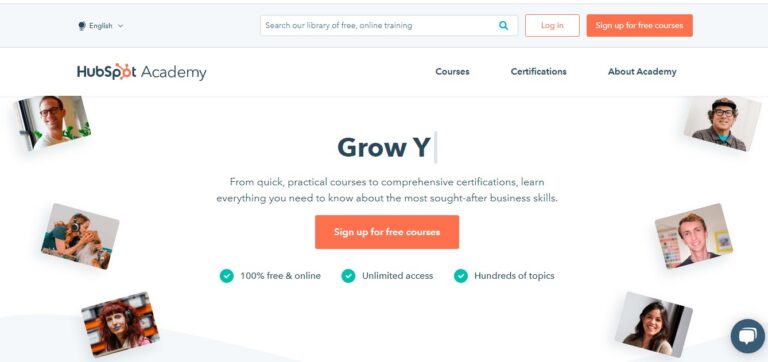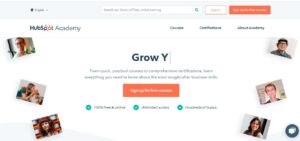 Hubspot is one of the websites that put me on the part to greater success in the digital marketing space.
Hubspot academy has a whole lot of courses. Hubspot started out as a CRM tool but has advanced to a full marketing suite. They have everything you will need to succeed from sales to marketing and many more.
Click HERE to go to their digital marketing course/
You will discover that you have access to learning the A-Z of digital marketing with Hubspot for students, marketing managers, content marketers, and everyone looking for an introduction to digital marketing. 
Hubspot digital marketing course has 9 lessons, 37 videos, and 11quizes. You can learn and master all of this within 4hours.
Learning digital marketing would not take you up to a day but practicing, implementing, and growing in this space is a continuous process.
The course curriculum includes; the fundamental of digital marketing, framework, SEO strategies, website performance, blog, marketing strategy, social media strategy, paid search advertising and how to craft emails that work.
On Hubspot, you will also get a certificate for job seeking, freelancing, and get a lot of money for yourself in the online space.
You can also use this knowledge for your online business and scale.
Go ahead, pick one of the websites and start learning!