In this article, I will be sharing with you the 10 best work from home jobs in Nigeria
These jobs are jobs you can do even though you are in a confused state and just want to earn money online.
Maybe you lost your job or have not been paid for months or you need to start up a side hustle to have additional income by working from home. 
We are in Nigeria and we know how stressful and difficult it can be when seeking jobs. The biggest truth is that people are making so much money online in Nigeria from the comfort of their homes taking care of their basic needs of life and we are aware.
These jobs are jobs you can start learning right now and start doing from the comfort of your home. While you are learning, you can apply the skills and make some money for yourself as long as you have your phone, laptop and, internet connection.
Make sure you read through this article to the very end, there is something juicy for you at the end.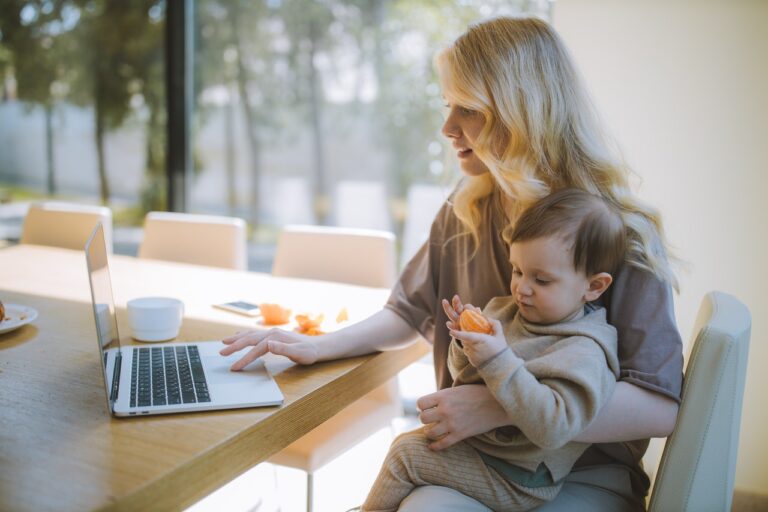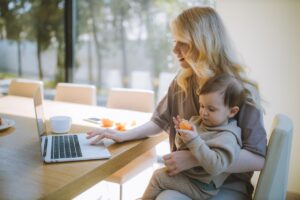 10 High-paying Best Work From Home Jobs Online in Nigeria
We will be talking about the 10 high-paying jobs as well as the potentials you can reach and earn from each of these jobs. 
You do not need any skill to start. What you need are simple basic skills you grew up with. If you do not have any skills at all, this article is for you and will surely help you a lot.
1, Virtual Assistant Job
This is when someone gets to hire you and you carry out simple tasks like replying to emails, following up with leads or sales calls, bookkeeping, creating PowerPoint presentations, and many more but a basically simple task.
You don't need to be present, you can simply work from home. You get hired, decide how many hours you will work daily, and get paid hourly.
The pay here is quite friendly. Let's see the earning potential of a virtual assistant.
Upwork is a freelancing website where you get to work online from anywhere in the world.
We will be using Upwork as the case study for all of the jobs we will be talking about.
On Upwork, a Virtual assistant is paid between $10-$25/hour to work for less than 30hours a week.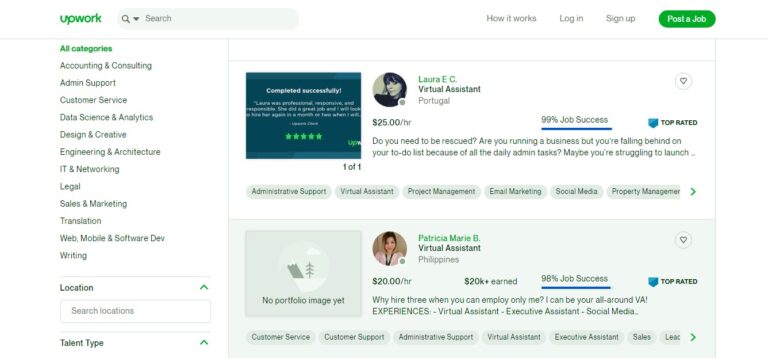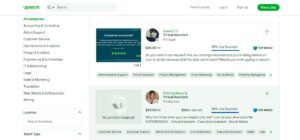 Let's assume a Virtual Assistant is paid $10/hour and works for 20hours a week, which is a total of $200 a week which is over N100k/week here in Nigeria at the time of writing this article. 
Working 20hours per week at N100k is really cool compared to what most full-time employees in Nigeria are paid monthly working 9hours a day, 45hours a week, and over 180hours a month.
On Upwork, you earn over N400k a month working for 80hours while some hectic Nigerian jobs will not pay even half that amount for 180hours or more monthly.
2, Translator
This job is for people who can speak several languages fluently. If you can speak Eglish language, Spanish, Chinese, Ibo, Yoruba, Arabic, or two or more languages, you can take up Translation jobs. You just have to be multi-lingual. This will really help you if you want to apply for any job as a translator.
You can work with several Chinese companies if you speak Chinese fluently to translate their language to English or any other language.
Basically, you can work to translate from one language to another.
As a translator on Upwork, you get to choose the languages you are familiar with or wish to work with.
You can make $25/hour.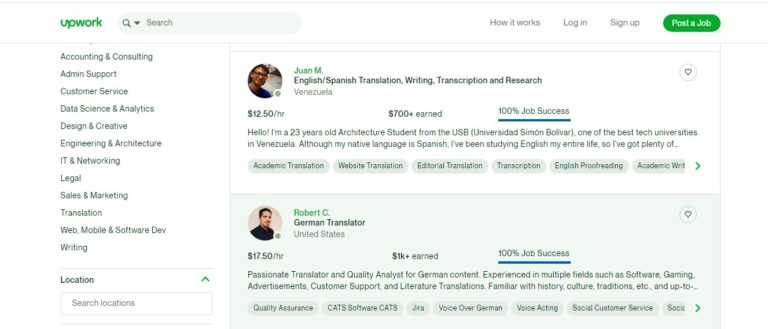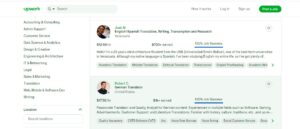 You can go ahead and take this Gig if this is for you.
3, Product Reviewer
This is another simple job you can do from home. 
What does a product reviewer do?
A product reviewer picks up a product; software, applications, website, phone, and reviews the product to critically determine how good the product is and how best it will serve the users.
For some items like phones, you can be required to do a review unboxing of the product, a review after the usage for three months, 6months, and so on. Depending on the kind of product, the requirement for the review divers.
Of course, it is all about using the product and reporting any anomalies and complaints if any.
There are a lot of companies looking for people that can test and review their product before pushing it out to the market.
On Upwork product, reviewers earn $150 weekly
Another good thing is that you are not limited to work with only one client on Upwork and various freelancing websites. You can work with as many clients or companies as possible.
So, if you work with 10 clients and get paid $100 weekly from each of them, that means you make $1000 weekly.
4, Transcriber


You can work as a transcriber and all you have to do is to transcribe audio/video into written text.
You can transcribe a  video into text or audio into text. Whichever the case may be, you will make a whole lot of money.
A lot of people have podcasts they want to turn into blog posts and they need a transcriber.
Your basic job is to do this for clients and get paid.
You can use an app called Otter to speed up your job.
On Upwork, you will earn up to $12/hour for less than 30hour/week
Why don't you become a freelancer today? There is so much opportunity to start out as a transcriber and earn a lot on Upwork.
5, Instructors
As an Instructor, you work as a coach or someone who can guide others to carry out a task or learn a skill. 
For instance, you can work as a musical instructor to teach children how to play musical instruments. There are parents looking for people to teach their kids how to play the keyboard, guitar, and other instruments. If you already have some skills to teach or help others with, you can take up this job.
On Upwork, you can get a writing instructor job that pays as much as $25/hour and between $400 – $500 weekly.
6, Social Media Manager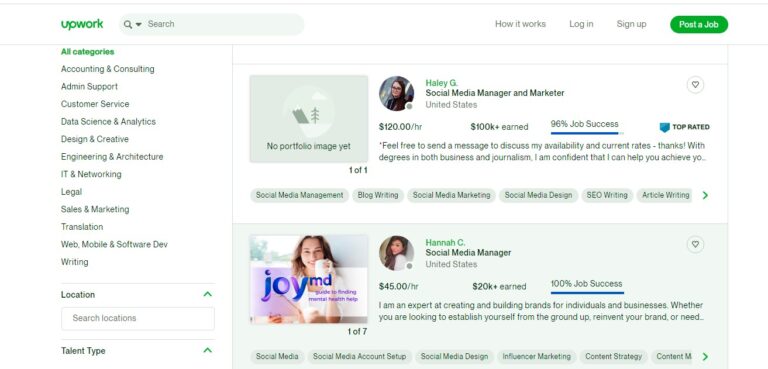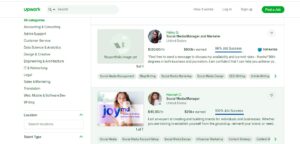 This is where you get to manage people's social media account. A lot of companies have several social media account across Facebook, YouTube, Instagram, Twitter, Pinterest, TikTok, LinkedIn and many other. They need people to manage their posting, content creation, engagement, follow up on social media, drive engagement.
Independent creators especially, need people to do most of this task for them.
All you need do is jump on Upwork and apply for these jobs and get paid.
On Upwork, you can earn up to $14/hour.
7, Writer
You can write content for different businesses, niches, products, and purposes. You can write as a blog writer, content writer, or product description writer 
There are various niches you can choose to write on. Just search for the one that suits you and write.
Being a writer on Upwork will make you as much as $20 – $25/hour for less than 30hours weekly.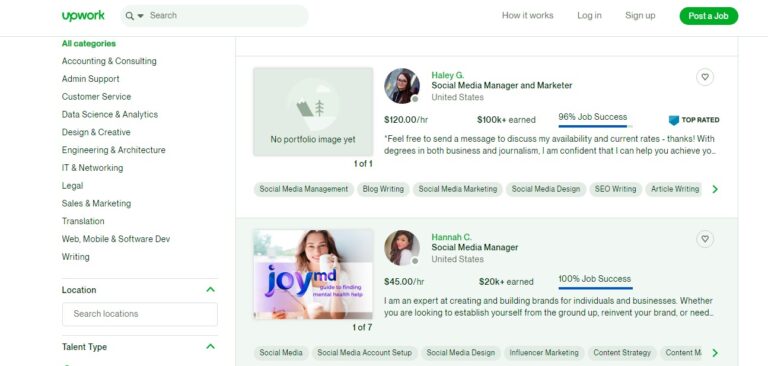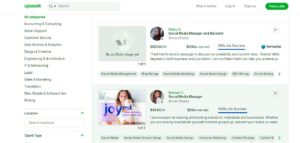 All you have to do here is writing content. Write, write, and earn!.
If you want to take this job, you need to have the ability to write, and communicate fluently and research effectively. You can learn how to write.
There will be free training on how you can make money online across the various channels i the online space. Click HERE to join the FREE training. 
8, Editor/Proofreading
As an editor or proofreader, all you will be doing is to proofread and edit already written content. 
As an editor and proofreader, you make over  $5 for a one-time job and up to $20/hour.
This client in the image below is willing to pay huge and needs someone to work for about 30hours weekly.
9, Landing Page Designer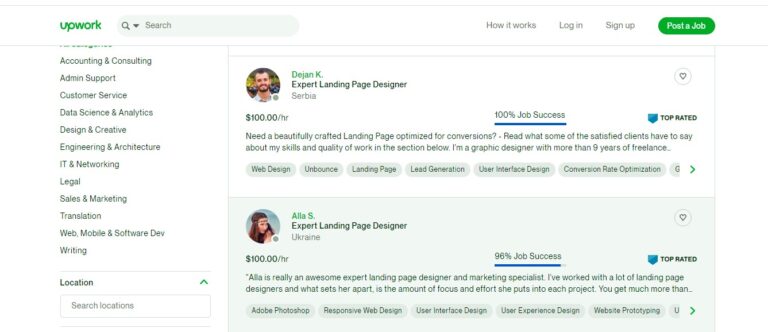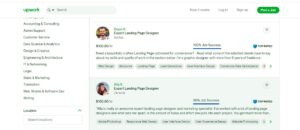 This job requires you to design a landing page for a website for online business owners.
If you work as a landing page designer on Upwork,  you can earn $30 – $50/hour working for less than 30hours a week.
Assuming you bid for $30/hour and work for 20hours a week, you will earn $600 weekly. This amount in Naira is over N300 weekly and N1.2M monthly
Isn't this interesting?
Well, before you can make a landing page job, you have to be really good at it and be able to present a superb job while submitting a proposal. If you don't have this skill, to will consider learning it. Although, with is a bit technical but you can learn this skill and master it between 3-7days.
There's going to be free training that will cover landing page design. You should join the free training NOW. Click HERE to join.
10, Affiliate Marketing
Affiliate marketing is basically selling other people's products and earning a commission for them.
Affiliate marketing is a very juicy opportunity. People are earning millions from affiliate marketing without owning a single product.
In my YouTube Channel, I have shared several affiliate marketing videos that will skyrocket you if you decide to jump on affiliate marketing.
I have also prepared a free training that will start soon in a Telegram Group.
I did a review with Kingsley on how he makes N500k weekly through Affiliate Marketing. Check out the video HERE.
Sure after reading through this article, you are 40% closer to making your first N1M from the online space. 
Which of the jobs will you take first? Leave a comment in the comment section below, let's talk about it.
Do not forget to join the Telegram Group for FREE TRAINING.
10 online jobs you can do from home…..